It is a very common occurrence in the movie industry for actors to turn down roles offered to them by big studios or directors. They might have different reasons for this, like being too busy working on a different project, the pay is too low, or the script may seem too boring. But sometimes, actors regret their decisions not to take certain roles because the movies end up becoming iconic.
Hannibal Lectеr (The Silence of the Lambs, 1991)
Christopher Lloyd, Patrick Stewart, Forest Steven Whitaker and other famous actors, such as Sean Connery, Dustin Hoffman, Robert Duvall, Jack Nicholson, and Robert De Niro, were considered for the part of Hannibal Lectеr. Sean Connery turned the role down and thought the script was "disgusting." And Robert De Niro took too much time thinking about if he wanted it or not. The director never got an answer from Duvall.
However, Anthony Hopkins didn't doubt a thing, as he decided to take the risk and portrayed Lecter so well, he received an Oscar for it. Hopkins got a lot of other awards and nominations for his amazing acting, and Hannibal Lecter was named the greatest villain in American cinema.
Edward Lewis (Pretty Woman, 1990)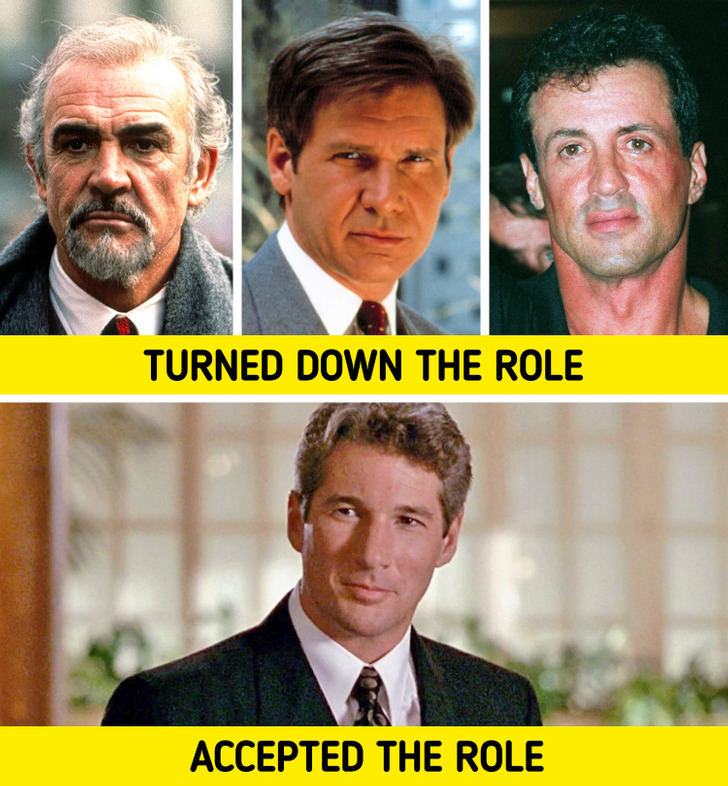 Richard Gere played a businessman, Edward Lewis, in this romantic comedy. The actor was nominated for a Golden Globe. But the role of Edward could have gone to a totally different actor, like Sean Connery, Harrison Ford, Sylvester Stallone, or John Travolta. But all of them turned the role down for various reasons.