Almost 70% of romantic relationships begin as friendships, according to new research. This type of relationship is more likely to be the rule than the exception, and it is definitely the best way to start a romance with your crush. That's why, when a celebrity becomes friends with another, it is only a matter of time before rumors start to spread about a "thing" happening between them.
1. Gwen Stefani and Blake Shelton
Gwen Stefani and Blake Shelton first met as co-judges on The Voice in 2014. They were both processing divorces at the time, and their support of each other led to a great friendship that got stronger and stronger over time. This bond eventually got them together — in 2015 they started dating and later on, in 2020, they finally got engaged. They are happier than ever.
2. Neil Patrick Harris and David Burtka
Neil Patrick Harris and David Burtka met while they were both performing on Broadway. At first, they began hanging out as friends. Harris didn't expect to find a special person to spend his life with, however, he fell in love fast with Burtka.
Unlike Harris, for Burtka it took some time to catch up with his friend's feelings, but eventually the lovebirds ended up together. They moved in together in New York City and later on moved to Los Angeles, because Harris landed a role in the famous sitcom How I Met Your Mother.
3. Mila Kunis and Ashton Kutcher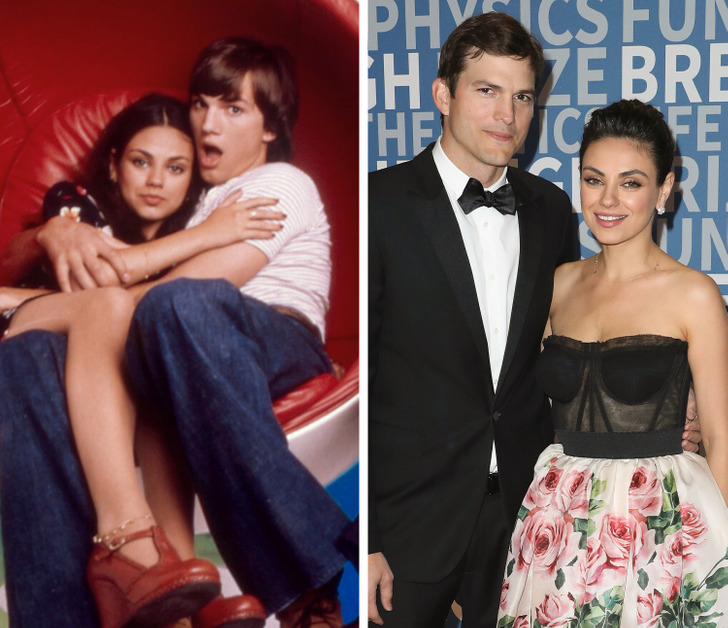 20thCentFox/Courtesy Everett Collection/Everett Collection/East News, PictureGroup/Sipa USA/East News
The famous relationship of Mila Kunis and Ashton Kutcher goes back to That '70s Show. They stayed friends for many years after they met and were even dating other people, both actors had serious relationships before they rekindled in 2012, where they caught up at the Golden Globes. The couple got married in 2015, and now they have 2 kids together, a daughter named Wyatt and a son named Dimitri.